The best thing about this glow in the dark skull bong? After you take one big rip from it, your skull will be glowing just as bright as your water pipe. This classic rock-and-roll water pipe is equally perfect for late night sessions and passing around the party. Plus, for a bubbler that will be the envy of your buddies, this trippy glass piece won't break the bank.
This water pipe isn't just a bong: it's a vibe. It adds some character to your smoking space that a clear glass water pipe simply won't. It's a piece of art that lets you get the smoke from its skull to yours as smoothly as possible.
Our Favorite Features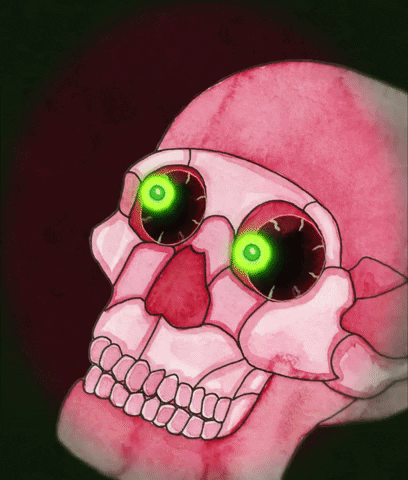 Look, we all know there's nothing like taking rips from a water-pipe: the filtered smoke hits cleaner, smoother and just BIGGER than any other type of pipe.
We love this piece because of its rockstar character, pupil-popping color ways and ease of grip: the finely-sculpted features of the skull at the pipe's base and the textured glass rising up the straight tube serve as excellent grips. Plus, at nine-inches tall, this unique water-pipe is the perfect size: it's not so big that you'll have to rent extra storage space nor is it too small to get the smokin' job done.
Specifications
Heavy glass bong

Skull Shaped Design

Glow in the Dark

Multiple color options
How To Use
Step 1: Fill the skull bong with water
Make sure the downstem is fully submerged in the base.
Step 2: Put your ground-up product in the glass slide
Make sure it isn't packed too tight for air to flow.
Step 3: Suction your mouth to the top of the glass skull bong.
Once you have your mouth in position, put the flame to the product and inhale until you taste the smoke.
Step 4: Pull the slide
Clear the smoke from inside the skull bong.
Step 5: Exhale
Then chill!
Availability:
Color variations availability depend on demand.
So cute! Nice and heavy too. Not cheaply made glass.
My husband loved this bong! Thick, sturdy glass and really cool looking!